John McQuarrie is an Ottawa-based photographer whose major clients have included
Coors, Marlboro, McDonnell-Douglas and Lockheed. But his real passion is producing coffee table books.
See his NEW BOOK FOR 2016 and his recent releases ~ by clicking on one of the Covers below.



​It was on Canoe Lake in Algonquin Park that Pierre Trudeau gained his lifelong love for the canoe, the paddle, and the backpack filled with all the worldly goods one might require.
Years after those early canoe trips, Trudeau penned an essay he called "Exhaustion and Fulfillment: The Ascetic in the Canoe," in which he wrote, "I know a man whose school could never teach him patriotism, but who acquired that virtue when he felt in his bones the vastness of his land, and the greatness of those who founded it"
I like to think that unnamed man was Pierre Trudeau.
I like to believe that, potentially, it could be each one of us, man, woman, child––and generations of children yet to come.
Roy MacGregor, Canoe Country: The Making of Canada,
(Random House Canada, 2015)



In Stores NowA

n extensive preview can be viewed by clicking on this cover

John McQuarrie with words by Roy MacGregor

288 pages, full colour, hard and soft cover editions,

11.5" by 8.75" (opening to 23" by 8.75")

Canadians have long had a fascination with the quest for our 'Canadian Identity'. For most of these 150 years many have tried to put their finger on it, to come up with a magic phrase that finally encapsulates who we are. But as the decades roll on, as the population grows and diversifies, as more and more layers are added, the "answer" becomes more and more elusive. While a very few have gotten close enough to nibble around the edges, perhaps Roy MacGregor has most eloquently summed up the hopelessness of the pursuit when he reflected on the difficulty of getting a grasp of the place; "It is a country you can only taste. And for a good many of us, all that does is increase the appetite for more."

And then there was this; "A friend once said, almost as a joke, that "Canada is the painting that Tom Thomson never finished." I like the sentiment expressed there. The final strokes forever out of reach."

How could you ever expect to properly capture such a country? Can you even try to talk about a – capital 'A,' one, single, specific – Canadian when the personality you are trying to define speaks two official languages, hundreds of other tongues, and is made up of faces in shapes and colours more varied than in any other country in the world? How can it be that a country so vast and so blessed with natural resources could shift from a place where four out of every five lived on the land to a place where four out of five now live in cities – all in a time frame so short there are Canadians alive who have lived in both realities?"

Roy MacGregor

After nearly 30 years of photographing the country from east to west, I finally indulged myself in 2015 and embarked on that Canadian dream motor trip we all say we will take some day. From my Ottawa home I pointed the car west and hit the Trans Canada with cameras and shoot-list in hand. Six weeks later, back home, I did a laundry, gassed up and struck off for the East Coast. While on the road I had a number of reference books on board, including several by Canadian journalist, author and chaser of the essential elements of the Canadian DNA, Roy MacGregor. Devouring them as I travelled, passages began leaping off the page. They spoke evocatively and elegantly of the vast potpourri of bits that define us. Realizing how beautifully they might fit into this book, I was delighted when Roy was persuaded to allow me to use his words. As I think you will agree, they add an entirely new depth and texture that would have been missing in their absence. The selected quotes above and at left will set the stage for you.

John McQuarrie

​Photographer and publisher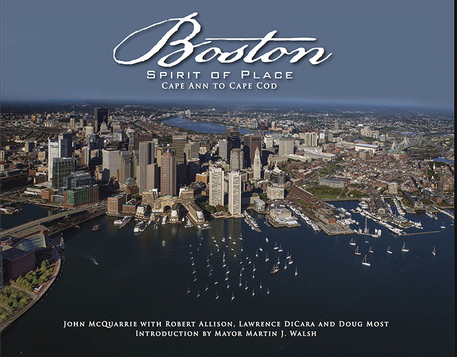 IN STORES NOWT
he history of Boston plays a central role in the American story. In 1630, Puritan colonists from England founded the town, which quickly became the political, commercial, financial, religious and educational center of the New England region.
Here is Boston as you have never seen her before. You will be present at her birth in the wilderness and from the comfort of your favourite chair, witness her growth through almost four centuries – an intimate portrait of many of the places and events that define the city, her businesses, culture, recreation, architecture, parks and people evolving from virgin forest to thriving city
BUY NOW
Barnes&Noble
~
Amazon
~
Midpoint
Andover Bookstore, Andover The Book Rack, Newburyport Spirit of '76 Bookstore, Marblehead Hugo Bookstores
---