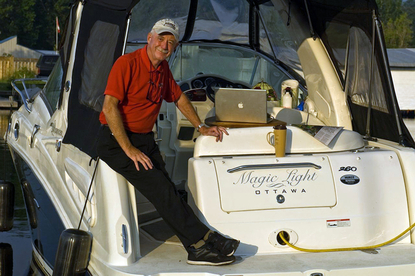 J
ohn McQuarrie is an Ottawa-based author and photographer whose major clients have included Coors, Marlboro, McDonnell-Douglas and Lockheed. But his real passion is producing coffee table books.
His earlier works focused on the Canadian Air Force from the Second World War to the Gulf War and the Canadian Armed Forces in their role as peacekeepers and more recently, as pleacemakers. John then turned his camera onto the cattle business and working cowboys. And he is quick to point out that his unfulfilled childhood dream of becoming either a cowboy or a fighter pilot has, in later life, finally been realized vicariously through the lens of his camera.
John went on to produce ten titles in his highly acclaimed
Then & Now
series which enjoyed wide success in his native Canada. These books looked at a number of cities, waterways and the Alberta oil patch, utilizing artful pairings of archival images alongside contemporary photographs of some of these same areas as they appear today.
Then came a bit of a departure from his traditional work featuring his own photography when he discovered that all NASA photographs were in the public domain and could be used in many different ways, not the least of which was in a book. Like many of us, John was captivated by astronaut Chris Hadfield's photos and tweets from the International Space Station, and he quickly decided there was a book here.
Earth, Spirit of Place, Featuring the Photographs of Chris Hadfield
was released in the Fall of 2013. Chris and his family were determined that they would use social media to communicate the experience of space exploration in a most personal way. As millions of you know, he was successful beyond anyone's expectations. In the Fall of 2013 Random House published Chris' own;
An Astronaut's Guide to Life on Earth
which quickly became an international best seller. Chris followed up in the summer of 2014 with a personal pictorial;
Your Are Here, Around the World in 92 Minutes
.
As John is fond of saying; "My books have been kind enough to repay me with an exquisite collection of memories, in addition to looking after my mortgage and whisky expenses.
And if you think that producing these books is simply a matter of travelling around by car, plane and boat, enjoying all the locales central to each theme–with no real work to be done–then you are remarkably perceptive and have it about right."
In late 2013 he began shooting
Boston, Spirit of Place, Cape Ann to Cape Cod
which was released in the Fall of 2014. He plans to continue this
Spirit of Place
series with a number of American cities in the coming years and is now working on
New York, Spirit of Place, Manhattan.
A preliminary preview is available
here
.
---