Here, in these two photos, is your front yard. Market condo jungle in the background is your other choice.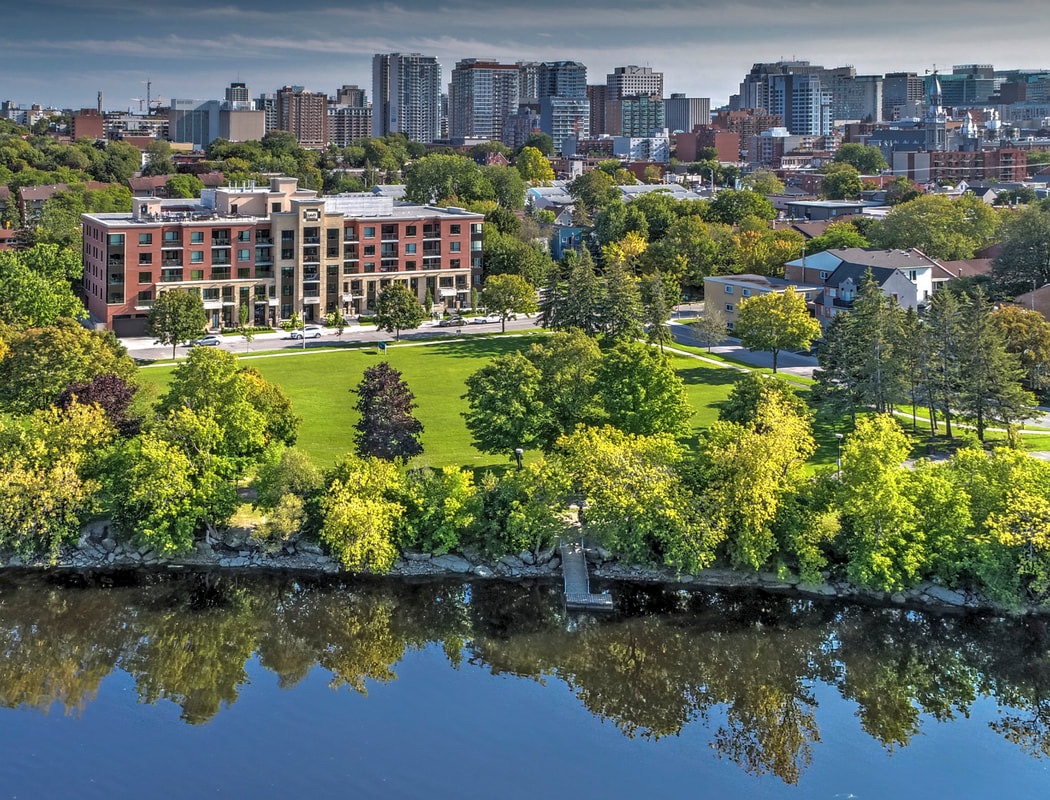 An Oasis of Calm in the downtown core
One bedroom + den ~ ground floor walk-out to park and Rideau River
$388,000 with indoor parking (2013 price)
​NEW PRICE REDUCTION SCHEDULE (with code name "John")
2013 price list $388,000.00
2017 price list $403,000.00
PRICE UNTIL NOVEMBER 6TH $373,000.00
JUMPS TO $403,000.00 NOVEMBER 7TH WHEN UNIT RETURNS TO CLARIDGE
Call: 613.241.1833 or email: mcq@magma.ca for details

Spring 2018 Closing Now possible if Offer received THIS WEEKEND,(BY October 6TH)


​Luxury Condo for sale ~ 316 Bruyere
One of a kind!
OPEN HOUSE TODAY ~ noon to six

BEST PARKLAND CONDO SETTING IN THE NATIONAL CAPITAL REGION
AND ONLY A TEN-MINUTE WALK TO THE HEART OF THE BYWARD MARKET....
ALL YOU HAVE TO DO IS LOOK AT THE AERIAL VIEW FOR THE "SETTING",
WITH THE RIDEAU STREET – MARKET, CONDO JUNGLE LOOMING IN THE BACKGROUND.
You don't have to go far to arrive at WaterStreet. Just take a few steps off the beaten path, between the bustling Byward Market and the delightful New Edinburgh neighbourhood, and you'll discover one of the city's most charming condominiums.
When you live in the heart of a city, you want to feel its pulse. That's why you're there, to participate in its stimulating concentration of interesting shops, people, popular restaurants, galleries and museums and the bustling Byward Market. But it's also important to have a respite from it, a green sanctuary of perfect stillness and calm, where you can enjoy wooded parkland and winding pathways along the Rideau River. Come home to the convenience of condo living, where the city uniquely meets the great outdoors. With river access right on your doorstep, you can stroll, jog, bike, kayak, canoe and so much more! This unit features scenic views of the Rideau River and Bordeleau Park, with its two public tennis courts. If you're looking for a connected urban lifestyle inspired by nature, this building was made for you.
Amenities include a gym, an event room, two locked bike storage rooms and an expansive roof deck, complete with three large Weber BBQs. Your personal terrace includes a natural gas hook-up for your BBQ.
ALSO RECENTLY ADDED: KAYAK/CANOE INDOOR STORAGE ROOM!
For more information: mcq@magma.ca or Call John: 613 241-1833

Google Map ~ "316 Bruyere Street, Ottawa"

A lovely, ten minute walk along the river to Foreign Affairs and Rideau falls
One bedroom + den ground floor walk-out, with parking $388,000

Open house 7 days a week, noon six, 316 Bruyere Street, Unit 102
Condo features expansive windows and a private terrace, providing scenic views of the Rideau River and
Bordeleau Park with its two public tennis courts. From your front door you have only an 800-metre walk along the shore of the Rideau, to Foreign Affairs, the NRC and John G. Diefenbaker building .

For more information visit:
www.magiclightphoto.ca and click on CONDOS at the top of the opening page,
or contact John McQuarrie:
613 265-1833 / mcq@magma.ca.

Interior photos of one bedroom + den below
Building amenities include gym, event room and expansive roof deck (right) with three Weber BBQs

AUGUSTA TWO BEDROOM PLAN (770 SQ FT) BELOW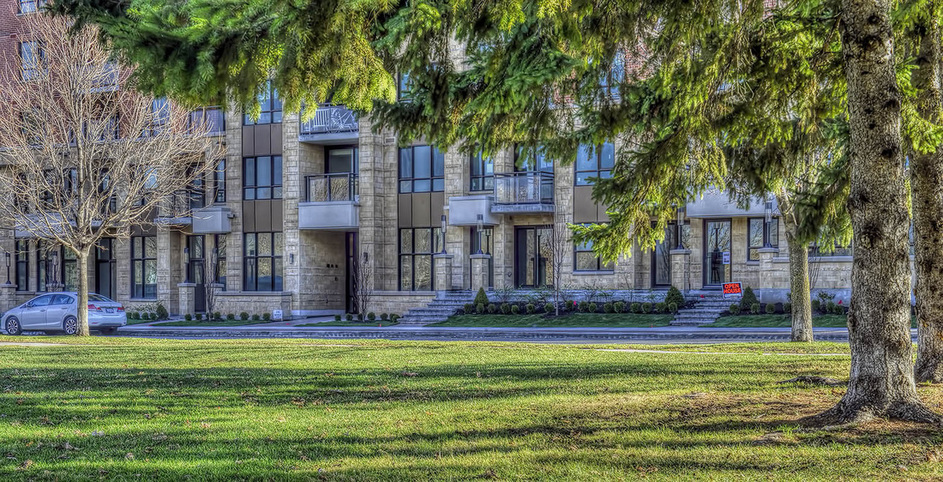 Park view of lower level on Bruyere Street facade with one-bedroom unit entrance indicated by red "Open House" sign.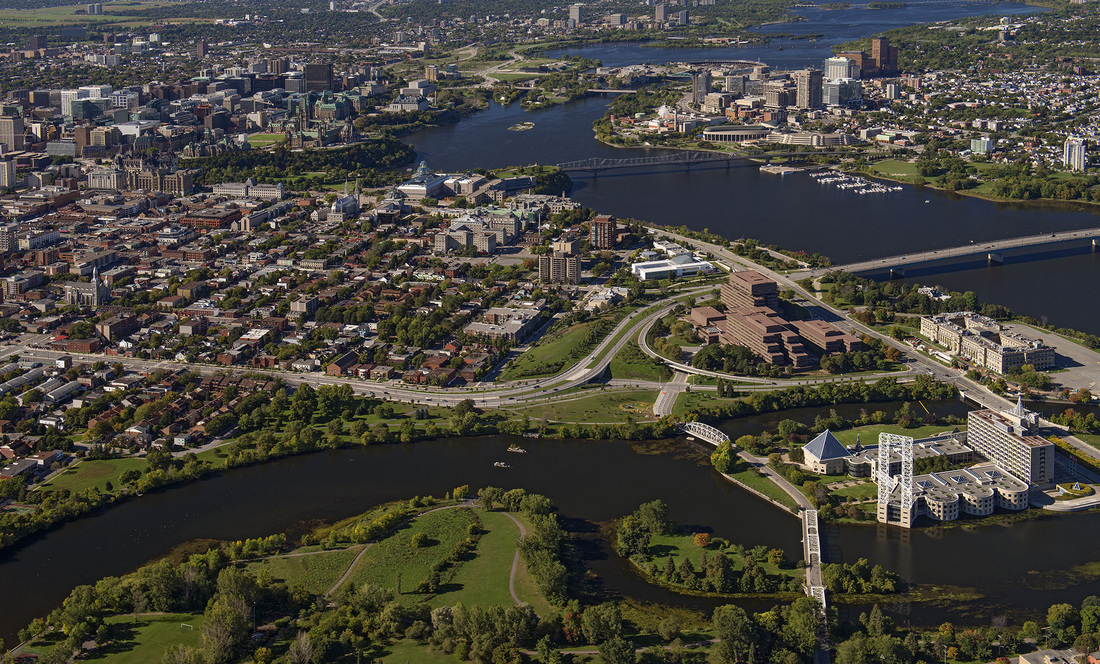 Bordeleau Park and future condo site in open green space at extreme left foreground with Lester B. Pearson building prominent at right and Parliament Hill top left.

Two-page spread from; OTTAWA THEN AND NOW reflects parkland spaces that are all within one kilometre of your terrace.